October 14, 2020
As we approach the season of gift guides, Grammys, and year-end round-ups, here's a reminder of some of the recordings released this year by 21C artists, in repertoire ranging from Bach, Brahms and Boulanger to Mozart, Mambo and Nino Rota. (Albums are listed alphabetically by artist.)

---

Teddy Abrams: You Can't Stop the Revolution (Sep 22, sonaBLAST!)
Released as a single, You Can't Stop the Revolution is a new three-part EDM (electronic dance music) composition by Teddy Abrams, Music Director of the Louisville Orchestra. Commissioned by Bang on a Can, Abrams's work premiered in August at one of the ensemble's famous new-music marathons. Using 70 sound samples from the recent Louisville protests, as collected by independent journalist Maxwell Mitchell, it captures the raw energy and power of the demonstrations against racial injustice that rocked the city, most notably after the fatal police shooting of Breonna Taylor. The record features artwork by painter, photographer and installation and performance artist Stan Squirewell, and proceeds from its sale go to the Louisville Orchestra's programs in support of racial equity.
Alessio Bax: Italian Inspirations (Feb 7, Signum Classics)
---

Alessio Bax: Italian Inspirations (Feb 7, Signum Classics)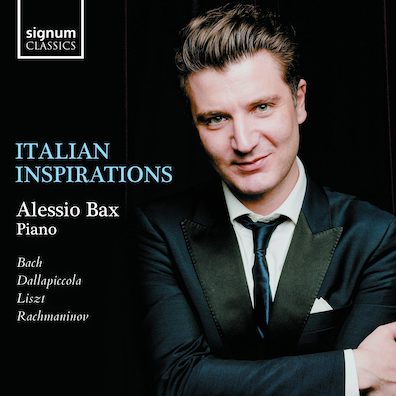 A native of Bari, Italy, Alessio Bax is "clearly among the most remarkable young pianists now before the public" (Gramophone). With Italian Inspirations, his eleventh recording for Signum Classics, he expanded his critically acclaimed discography with a creatively curated solo recital program themed to his homeland. This combines J.S. Bach's arrangement of an Alessandro Marcello oboe concerto, Rachmaninov's Variations on a Theme of Corelli, Liszt's Italian-inspired St. François d'Assise: La prédication aux oiseaux and Après une Lecture du Dante: Fantasia quasi Sonata, and Dallapiccola's Quaderno musicale di Annalibera, a playful yet tender twelve-tone composition dedicated to the composer's eight-year-old daughter. Hailed as "an imaginative and quixotic mix" (The Guardian), "this Italian's salute to his home country is inspired indeed" (Gramophone magazine).
---

Eleonor Bindman: J.S. Bach Cello Suites for Solo Piano (Oct 9, Grand Piano/Naxos)
On the heels of the recent recording – "breathtaking in its sheer precision and vitality" (Pianist magazine) – of her own transcription for four-hands piano of J.S. Bach's Brandenburg Concertos, pianist Eleonor Bindman has now completed a new project: a solo piano transcription and recording of Bach's complete suites for unaccompanied cello. These six pieces have been transcribed many times for instruments from trombone to charango, starting with the lute version of Suite No. 5 made by Bach himself. But previous piano versions, particularly in the 19th century, tended toward "improvements" ranging from added harmonies to newly composed accompaniments. Bindman's goal was to adhere as closely to the original works as possible, making a simple and sincere attempt to bring a new sonority to some of Bach's most beautiful conceptions.
---

Michael Hersch: I hope we get a chance to visit soon (May 22, New Focus Recordings)
American composer Michael Hersch is "one of the most fertile musical minds to emerge in the U.S. over the past generation" (Financial Times). Scored for two sopranos and nine instrumentalists, his dramatic cantata I hope we get a chance to visit soon addresses the realities of cancer, drawing from the texts of his correspondence with his late friend, Mary Harris O'Reilly, while she battled the disease and also featuring texts by Canadian-American writer and cancer victim Rebecca Elson, and by British poet Christopher Middleton, whose work has been a recurring source of inspiration for the composer. Recorded live at England's co-commissioning Aldeburgh Festival in 2018, the work is performed by some of the composer's most trusted collaborators: sopranos Ah Young Hong and Kiera Duffy, alto saxophonist Gary Louie, pianist Amy Yang, and members of the Mahler Chamber Orchestra, under the leadership of Tito Muñoz.
---

Daniel Hope: [email protected] (Aug 14, Deutsche Grammophon)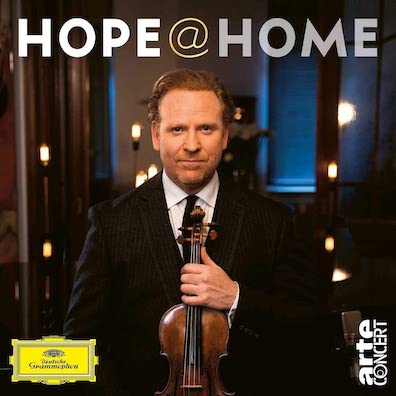 [email protected] is the latest recording from British violinist and exclusive Deutsche Grammophon artist Daniel Hope. Presenting the violinist with pianist-arranger Christoph Israel and a host of guest stars in radio-friendly selections by composers from Brahms to Nino Rota, the recording captures 21 highlights from Hope's hit TV series of the same name. "A hugely successful show … that has resurrected the art of the house concert" (The Guardian), [email protected] was professionally produced from Hope's Berlin living room – live from the lockdown – for the German/French ARTE TV network. Combining high-quality audio with the intimacy and immediacy of live, world-class home music-making, the daily series allowed the violinist and his guests to stay connected with their audiences from the earliest days of the pandemic. Together with its sequel, [email protected] on Tour!, the show ran to almost 70 episodes, was streamed more than six million times, and raised tens of thousands of Euros for artists in need.

---

David Krakauer & Kathleen Tagg: Breath & Hammer (May 8, Table Pounding Records)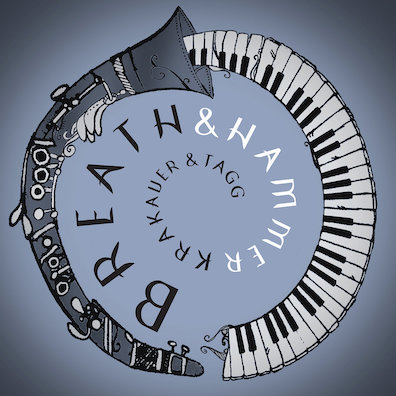 Breath & Hammer is an electro-acoustic recording from Grammy-nominated, genre-bending, classical, klezmer and world music clarinetist David Krakauer and innovative composer, arranger, pianist and producer Kathleen Tagg. Performed solely on clarinet, piano and Tagg's self-styled "piano orchestra" of interwoven preparations and samples, all integrated into a multi-layered, quasi-orchestral soundscape, the record combines the duo's own compositions with their original arrangements of music by close friends and collaborators. These include accordionist, composer and pianist Rob Curto, saxophonist John Zorn, Cuban percussionist Roberto Rodriguez, accordionist and klezmer specialist Emil Kroitor, and Syrian composer and clarinet virtuoso Kinan Azmeh, who describes the album as "truly beautiful and inspiring." As The Whole Note writes, Breath + Hammer makes one "Listen and wonder: 'How'd they do that?'"
---

Nicholas Phan: Clairières: Songs by Lili & Nadia Boulanger (Jan 17, Avie Records)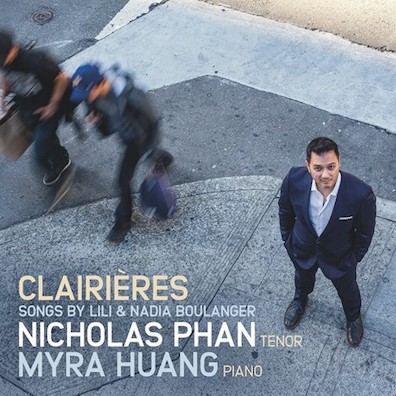 Tenor Nicholas Phan is "one of the world's most remarkable singers" (Boston Globe). On Clairières, his seventh recording for Avie Records, Phan continues his ongoing exploration of the rich French song repertoire, this time through the lens of the trailblazing Parisian Belle Époque composer Lili Boulanger and her sister Nadia Boulanger. The recording groups Lili's song cycle, Clairières dans le ciel, with the sisters' settings of individual poems by Maurice Maeterlinck, Albert Samain and Paul Verlaine. As The Guardian put it, "It's hard to imagine these Boulanger songs could have more convincing advocacy."
---

Inbal Segev / Marin Alsop: DANCE (June 5, Avie Records)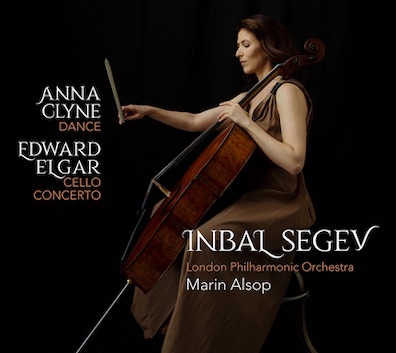 DANCE is the latest recording from Inbal Segev, the Israeli-American cellist known for her "complete dedication and high intelligence" (San Francisco Classical Voice). Recorded with Marin Alsop and the London Philharmonic Orchestra, the album pairs Segev's interpretations of two English cello concertos composed exactly a century apart: Elgar's iconic, elegiac example dates from 1919, while Anna Clyne's DANCE was written just last year. For Segev, who commissioned Clyne's new work and gave its world and East Coast premieres last summer, the release represents a major career milestone. DANCE was an instant success, topping the Amazon Classical Concertos chart and inspiring glowing praise from outlets including BBC Radio 3, La Scala Radio, and NPR Music, which named DANCE's opening movement among its "Favorite Songs of 2020."
---

Alisa Weilerstein: Bach: The Six Cello Suites (April 3, Pentatone)
Alisa Weilerstein's recording of Bach's six suites for unaccompanied cello was released by Pentatone in April. For the cellist, a MacArthur Fellow "supercharged with virtues that speak to the better part of human nature" (The Independent, UK), the album marks her most personal project to date. One of the crowning glories of the classical canon, Bach's suites have long featured in her programming and have come to play an increasingly central part in her career. Although forced by the COVID-19 crisis to cancel most of her live performances in 2020, she continued to play and discuss a different movement of the suites each day in her innovative #36DaysOfBach project. She can also be heard sharing her insights into the first G-major prelude in her contribution to Vox's YouTube series, which has been viewed more than a million and a half times. As for her album, The Guardian writes: "The exceptional cellist's music emerges with sunlit clarity in a recording that stands up with the best."
---

Sarah Willis: Mozart y Mambo (July 10, Alpha Classics)
The Classical concerto meets the rhythms of Cuba on Mozart y Mambo, the newest recording from charismatic British-American French horn player Sarah Willis. Recorded in Havana in January, the album presents Willis – the first female brass player in the Berlin Philharmonic – with the Havana Lyceum Orchestra and other leading Cuban artists in a joyful pairing of Mozart masterpieces, including the Third Horn Concerto (K.447), with two new Mozart-inspired mambo compositions and original arrangements of Cuban classics. A self-described "musician on a mission," Willis has joined forces with Alpha Classics to use part of the album's proceeds to buy new instruments for the orchestra. A documentary about the project titled Mozart y Mambo – A Cuban Journey with Sarah Willis aired on Germany's Deutsche Welle TV in June. As The Guardian concludes, "Willis's generous musicianship is stamped on this entire project, in which Mozart … and mambo are gloriously joined at the hip."
---

Upcoming in November …
Daniil Trifonov: Silver Age (to be released on Nov 6, Deutsche Grammophon)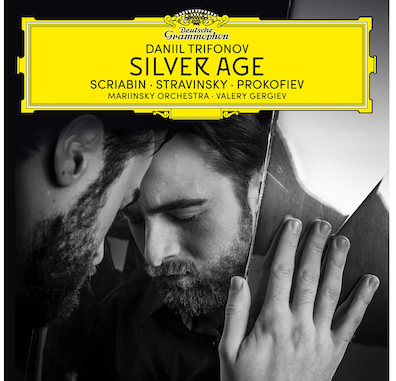 November brings a new recording from Grammy-winning pianist Daniil Trifonov, "without question the most astounding pianist of our age" (The Times of London). Silver Age, recorded with the Mariinsky Orchestra and Valery Gergiev, illustrates the artistic audacity and brilliance of a turbulent era in Russia's history, with works by three of its pioneering composers. On the album Trifonov plays concertos by Scriabin and Prokofiev (his second), as well as Stravinsky's Three Movements from Petrushka, Serenade and excerpts from The Firebird, together with shorter works by Prokofiev.